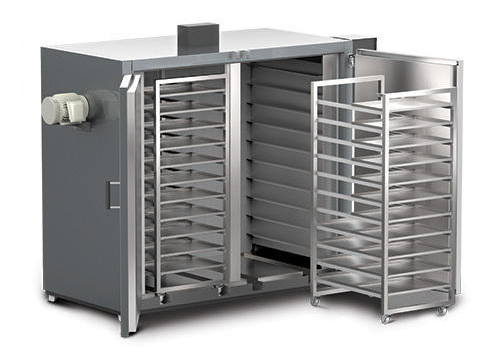 Tray Dryer offered by us is used for diverse drying applications like food, electrodes, bakery, plastic powders and drying of pigments. The dryer is used in the industries where drying and heating are the essential parts of the manufacturing process. Thermostatic inner chamber of the dryer is fabricated using mild steel and stainless steel and its temperature ranges from 50C to 150C.
Features:
​​Robust construction.
Built on formed angles of 3mm thick sheet and suitably reinforced with angles and sections.
External walls are manufactured from 1.6mm thick stainless steel sheets of 304 qualities.
The internal of the dryer is built of 1.6 mm thicks.s 304 quality sheets insulated with minimum 50 mm thick glass wool insulation and caddied with s,s, polished sheets.
Fresh air inlet through 20-micron pp cloth filters and an adjustable air outlet flap and a door at the front.
Explosion proof door is locked with the help of spring loaded ball latches with suitable pressure.